Fun fact: Domino's used to pride themselves on having a very simple menu. This is hardly the case in Australia, especially given that it is not only very long, but they keep changing it!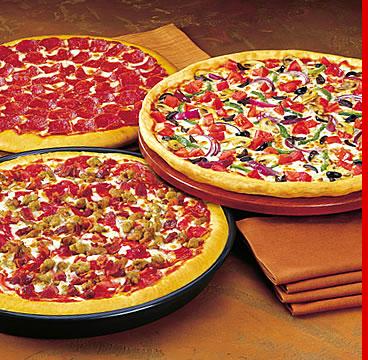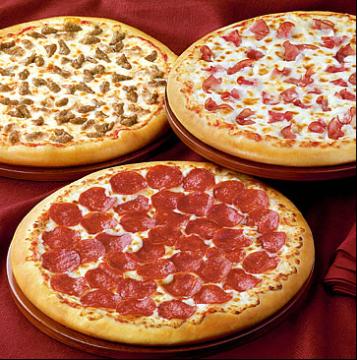 Pizza Hut originated in Wichita, Kansas, in 1958, by the brothers Carney. The first franchise store was in Topeka, and the longest continuously running franchise store still operating today is in Manhattan, Kansas. Pizza Hut is best known as the inventor of the Deep Pan Pizza. Its stock tickers over the years have included PIZ and YUM.

Fun fact: Pizza Hut only serve Pepsi because they were once owned by Pepsi, and still belong to a company which controls the Pepsi brand: Yum Brands, Inc.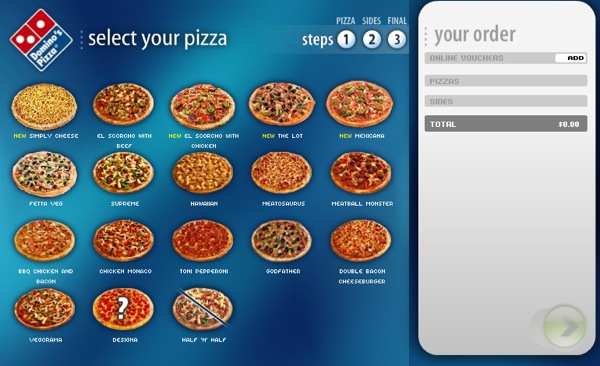 Domino's was started by the brothers Monaghan in Ypsilanti, Michigan, in 1960 when they bought a store formerly called Dominick's Pizza. My guess for the name change is that Tom saw the potential iconography that the word "domino" presented: brother James dropped out of the partnership well before Domino's became the famous brand it is today. Domino's is the inventor of the cardboard pizza box, the conveyor-belt pizza oven and the HeatWave or HotCell delivery pouches used to keep pizza's warm on the way to customers. Monaghan has little to do with the company operations today, and indeed Domino's is a separate company here in Australia: Domino's Pizza Enterprises.
This last fact may be a clue as to why Australia's Pizza Hut menu pretty much exactly mirrors the US, yet Australia's Domino's menu is completely different and always changing. Also, in Australia, Domino's was first with a good solid online ordering system (albeit Flash-based), wheras in the US, Pizza Hut was first to get a solid online ordering system. Ultimately, I have always preferred Pizza Hut, but paradoxically Pizza Hut's adoption of many of Domino's innovations in the 1990s (frozen ingredient bags, and the "pizza production line" approach to achieve volume) has lead me to purchase proportionally more of the competitor's product. Pizza Hut pizzas today are clearly just as mechanical and measured as Domino's, so the fact their online ordering and delivery systems are so far superior added to the fact their product has a cost advantage allow them to win over my childhood loyalty.
Menus: Pizza Hut versus Domino's Oz
I've had to use the new 2008 menu here, which actually puts Domino's at a disadvantage without coupons and promotions: many of their new pizzas have a surcharge, unlike the competition (chicken pizzas excepted)!
Pizza Hut
Domino's Equivalent
Super supreme
Super lot (2008) (remove garlic, oregano)
Meat supreme
Seven meats (remove bacon, add onion & capsicum, use tomato base)
Hot'n'spicy
Fire eater
BBQ meat lovers
Sausage & bacon sensation (2008)
Hawaiian
Big bacon, ham & pineapple (2008)
Chicken and bacon
BBQ chicken and bacon (use tomato base)
Chicken supreme
Chicken monaco
BBQ chicken
Chicken feast (2008) (use BBQ base)
Chicken aloha
Hawaiian (add chicken)
Veggie supreme
Vegorama
Double bacon cheeseburger
(we have a match!)
Double bacon cheeseburger
(we have a match!)
Pepperoni lovers
Toni pepperoni
Cheese lovers
Simply cheese
Mediterranean
Capriciosa
Supreme (snap!)
Supreme (snap!)
Pizzas from Domino's with no equivalent:
Designa (naturally, you put on this what you want)
Half'n'half (don't think Pizza Hut will do this, but that may be a local thing)
Meatosaurus
Meatball monster (2008)
The 70s lot
Menus: Domino's Oz versus Domino's Uz
| Domino's US | Domino's Australia (Discontinued) |
| --- | --- |
| Deluxe feast | Super lot (2008) |
| MeatZZa feast | Seven meats |
| Extravaganza feast | Fire eater |
| Hawaiian feast | Big bacon, ham & pineapple (2008) |
| America's favourite feast | Sausage & bacon sensation (2008) |
| Vegi feast | Vegorama |
| Bacon cheeseburger feast | Double bacon cheeseburger |
| Pepperoni feast | Toni pepperoni |
Our menu in Oz, is much longer. Not mentioned in the above comparison: The Aussie (back in 2009), BBQ chicken & bacon (Big Taste), Chicken monaco (Big Taste), Chicken feast (Big Taste 2008), Hawaiian (Classic), Simply cheese (Classic), Cheese trio (2009), Capriciosa, Supreme, Meatosaurus, Meatball monster (2008), Feta veg (2008), The 70s lot, plus a bunch of new pizzas I describe in the final section. Of course I'm sure many of the Domino's US stores allow you to Designa your own pizza and also to have a Half'n'half, though much like our stores, they probably charge for the privilege.
Menus: Domino's Oz 2007 versus Domino's Oz 2008
The Domino's pizza menu in Oz went through some big changes in 2007. At the start of the year, they were still selling their "Meat Pie Pizza", which actually wasn't half bad. Here's the menu from the time: three of the first four items, the "headliners" as I call them, are long gone.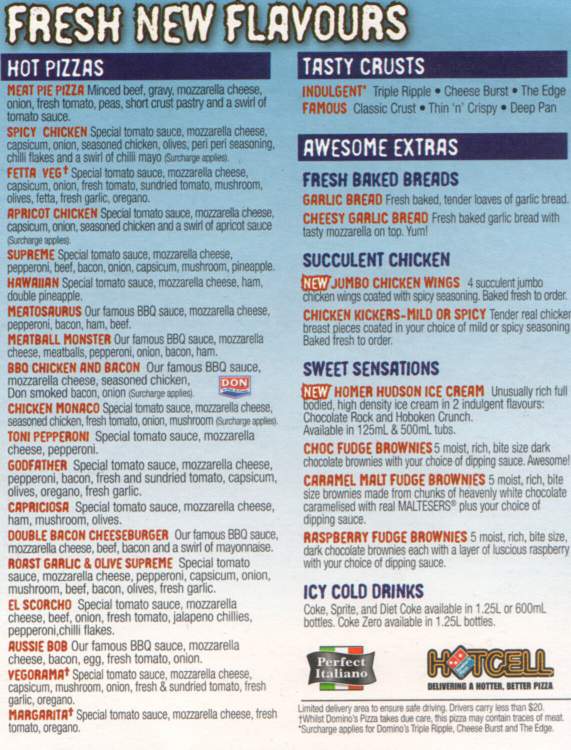 Towards the end of the year, they introduced "the 70s range" as a one off promotion, but must have been surprised at the popularity.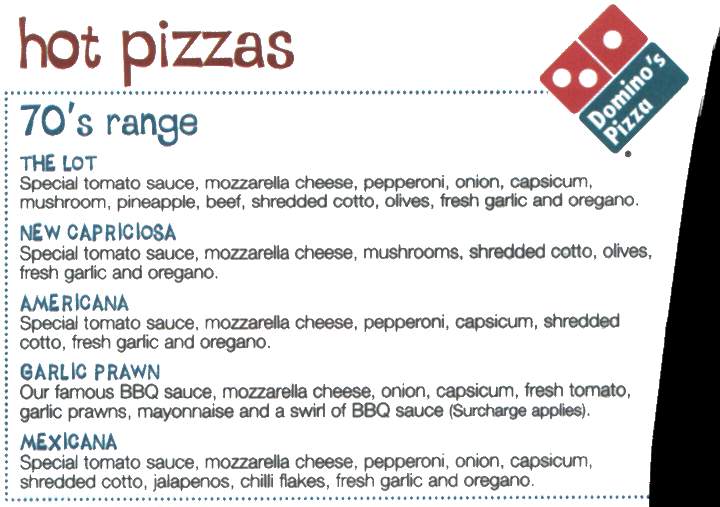 Besides these ever changing "headliners", things like the Meatosaurus and Meatball monster persist from previous successes. As a result, the Domino's menu is now really too long, and will probably go though some rationalization shortly. Domino's themselves are already showing signs of confusion: more than once I have ordered a standard menu item to find ingredients missing from or added over the correct formulation.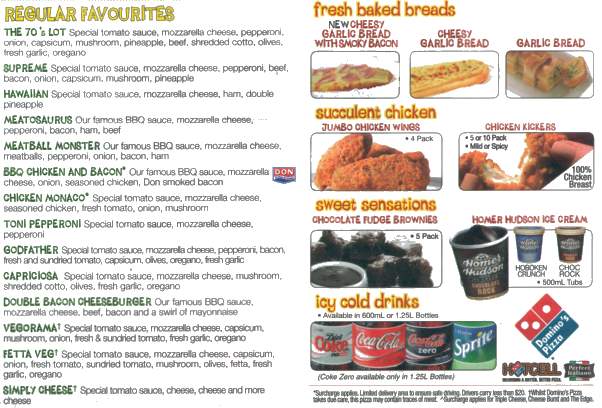 The 70s range is gone, but their new $2 surcharge menu headliners owe much to the formulations in that range: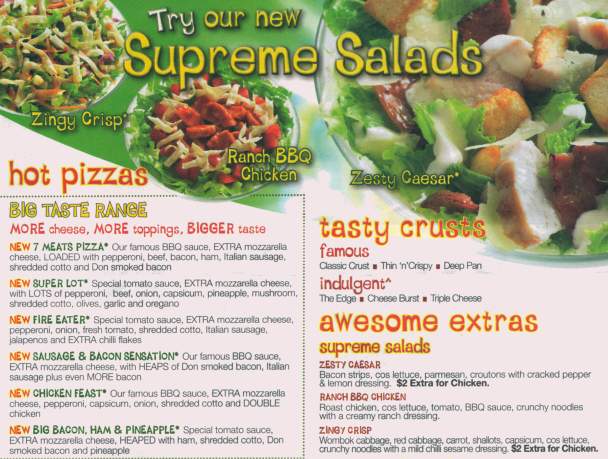 Oh yeah, and even Domino's can't resist getting on the "healthy fast food" bandwagon. I must admit—salad delivery is an intriguing idea.
Menus: Pasta Hut or Pizza Hut?
Pizza Hut went through some big changes of their own in 2008. A worldwide rebranding starting in the UK and moving to mainland Europe, Asia and Australia has introduced the concept of Pasta Hut. Initially the selection in Australia was limited to Creamy Chicken and Mushroom and Neopolitana Meatball, but later incarnations include Carbonara Chicken and Mediterranean Veg. The range is collectively called Tuscani, and is typically oven-baked pasta spirals in a large 4 serving foil pan served with 5 foccacia breadsticks. Pasta singles are also available in plastic bowls.
On the side, so to speak, Pizza Hut made permanent their popular Triple Dippers: mains and desserts; and have also introduced new Pizza Mia (in Chicken, Cheese, Beef and Pepperoni varieties), which is a medium size "one serve" pizza, presumably targeting singles who want the convenience of pizza for dinner without being forced to keep leftovers for the next morning (or even evening), which are never as good as the fresh article. The value proposition ain't so great, however, when compared to their competitors: even if you throw half of your large pizza away, you are still better off in the hip pocket.
Pizza Hut's online ordering also went through a notable revamp in 2008, and is now almost as usable as Domino's, although I still give Domino's the two thumbs up, wheras I can only manage just the one for Pizza Hut. (I still have resevations about both companies use of Flash.) Concern I have for Pizza Hut's system, apart from usability, stems from the insecure way it delivers your Credit Card details to the local store for billing.
Menus: Domino's Oz 2008 versus Domino's Oz 2009
The two dollar surcharge for Big Taste is now gone: it's $3 now! The range has also changed, and Domino's adds pasta to the menu in 2009 to compete with Pizza Hut's offerings in this area.
Out is the choice of salads (only Zesty Caesar survives), in are the pastas: Chicken Primevera (now with onion), Prawn Marinara (now with onion), Chicken Feta & Sundried Tomato, Beef Neapolitana, Chicken Carbonara (now with onion.) Originally the pastas did not include onion, and were served only in a puff pastry bowl.
Pizza wise, in are Creamy chicken & cherry tomato, Garlic prawn, Chilli prawn, Chicken & feta and Spinach & feta and out are Super lot, Sausage & bacon sensation, Chicken feast, Big bacon ham & pineapple. Graduating from the traditional menu to the Big Taste range, as if to prove the whole thing is just to charge more than the advertised price for a pizza by stealth: BBQ chicken & bacon, Chicken monaco, Chicken italiano, Italian meat. In for the long haul: Seven meats and Fire eater.
As mentioned above, Pizza Hut have also introduced Pizza Mia this year, so not to be outdone Domino's repriced the low end of its range at a $1 discount. Called Classic, these are the same size pizzas as the traditional menu, but have less toppings. (Pizza Mia's also have fewer toppings, but are smaller to boot.) Knocked down from the traditional range are Hawaiian, Toni pepperoni, Simply cheese and Margherita. Added are Veg trio and Beef & onion.
Dropped from the menu entirely: Meatball monster, Feta veg. Back from the dim past: The Aussie. Which joins the traditional line-up which still has Meatosaurus, Supreme, Double bacon cheeseburger, Vegorama, Godfather, Capriciosa and the 70s Lot.
Domino's online ordering has kept pace well with the fast moving menu, except the new iPhone application which was recently released does not show the low end Classic menu (and therefore blocks the customer looking for the best value) and also has some address fussiness which put it well below the usability of even Pizza Hut's online ordering. No thumbs up, and a poor showing from Domino's, whose fast moving menu has finally trapped itself in an IT-related SNAFU.
---
Author and editor: Kade "Archer" Hansson; e-mail: archer@kaserver5.org

Last updated: Sunday 15th November 2009